Hello, I'm Akane, working as an Internal IT manager. (Please note that there are 2 Akane, 茜子 and 茜. I'm the latter.)
It's already cold winter. Happily, a Kotatsu (こたつ/炬燵) has just arrived in our office. (Every winter, Kotatsu comes to HDE. :))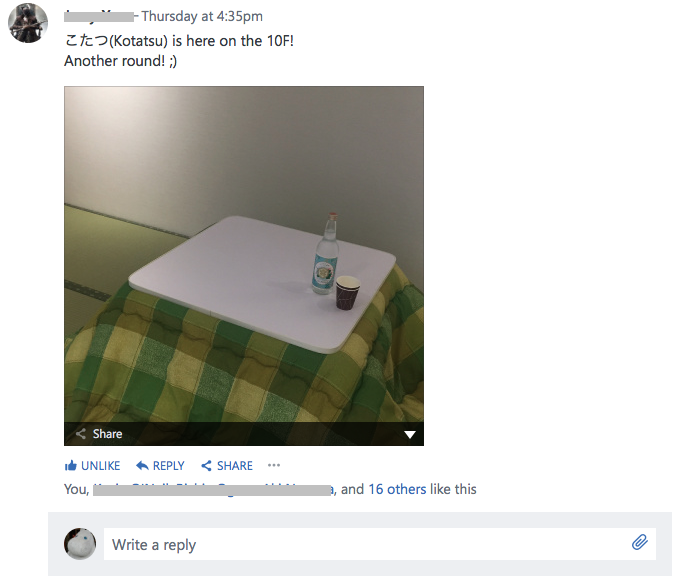 Kotatsu is an old style Japanese heating appliance but is still evolving.
Since I'm a Kotatsu lover and actually I've just ordered a new Kotatsu last month (now I'm waiting for its arrival), I would like to talk about features where I was really impressed with its evolution when I was choosing Kotatsu.
1. Flat Panel Heater
The most common heater is Halogen Heater. However, it has two big problems, the thickness and the small concentrated area of heating.

Halogen heater.
As you know, the most pleasant time when using Kotatsu is lying down and get into the Kotatsu Futon. However, the heater makes your only one part too hot and you have to adjust the temperature again and again. And, ah, imagine how annoying that the thick and sticked-out heater hits your hip when you are turning over and interrupts your comfort sleeping!!
Thanks to some genius, a new type of heater, "Flat Panel Heater" came to us. The size of the heating panel is almost same as the table so that the heat goes around in Kotatsu evenly.
According to some articls, the power of heating is weaker than the conventional heater, but I believe that the hotness is enough for a person living in non-cold district like me.
2. Remote Controller with Off Timer
You can of course adjust heater's temperature but most of cases, the controller is inside the Kotatsu so you have to grope for it.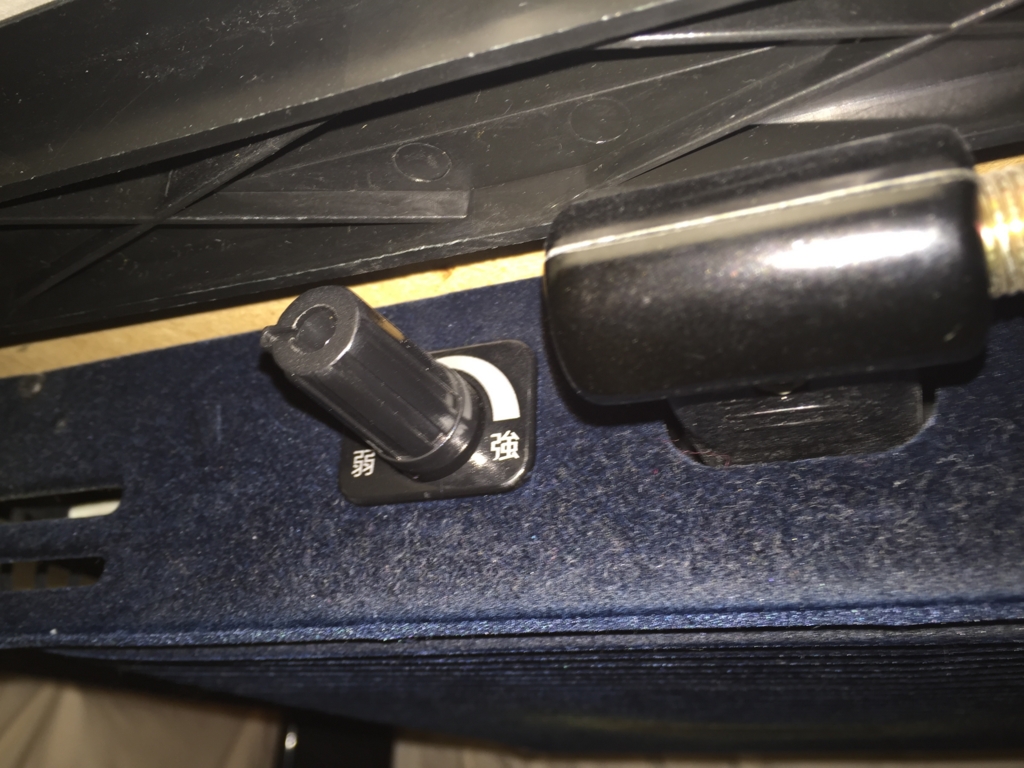 Heater's temperature controller.
Advanced Kotasu has a remote control (not wireless yet though). And also some of them have timer!! You no longer need to care about turning the heater off when you are going to sleep under the Kotasu!!
3. Appearance
The reason why I decided to buy a new Kotasu is this. Appearance. My current Kotatsu is made from Plastic and looks cheap (actually it was cheap, just ¥3,000), not cool, or rather, it's ugly. :(
I think the most evolved point is this. Recent Kotatsu looks really modern. They are made with many different kinds of materials from plastic to wood, the colour is various, black, white, brown, and mosaic, and shapes are not only square but also round and even asymmetric.
Considering that Kotatsu unveiled from Futon can be used every seasons, it is better to choose nice looking one. I ordered one made with walnut. :))
4. Kotasu Futon
Kotasu Futon is, of cource Futon (布団) so it is basically thick. It may occupy your room because of its bulkiness.
Recentnly, to make it look sharp and cool, a lot of thinner and space-saving Kotatsu Futon is released. (However, to tell the truth, I don't like this type of Kotatsu Futon, so I chose ordinary thick and warm Futon. ;D )
And, the recent Hokuo (北欧, North Europe) design boom in Japan gave us the change of the design of Kotasu Futon covers. You can find a lot of modern patten and it would fit your modern room. It is so fun to find favorite one.
Well, are you ready for your Kotatsu life?? If you want to try Kotasu, come visit HDE!!
早く新しいコタツ届かないかなー。